A Long Road to Reform
The movement for US military justice reform began in the early 1990s. At the time, there was no outside watchdog advocacy organization like Protect Our Defenders. And outside of small military circles speaking in hushed tones, there was virtually no public awareness of the issue of military sexual trauma or military sexual assault. The movement began with survivors standing up and speaking out about their experiences and calling for a solution to a problem that did not even have a name yet.
---
1991
Almost 100 women and men attending a naval aviators convention are sexual assaulted by drunken officers in Las Vegas. When the military initially covers up the Tailhook scandal, whistleblower Lt Paula Coughlin (ret) goes public with her assault and it becomes a national scandal. Although adequate justice is not achieved for the survivors, the Navy Secretary resigns, and the issue of military sexual assault breaks through into public consciousness for the first time. Coughlin would later go on to serve on the board of Protect Our Defenders, which bestows the annual Coughlin Courage Award to an exemplary survivor or advocate who displays special fortitude to come forward. Today Coughlin is regarded by many as the mother of the movement.
---
1996
Twelve drill instructors are arrested for rape and other sex crimes at Aberdeen Army base in Maryland. The Army sets up a sex crime telephone reporting hotline.
---
2003
An investigation sparked by an anonymous whistleblower at the USAF Academy finds a culture of widespread sexual harassment and assault at the USAF Academy in Colorado. An official survey discovers an astonishing 1 in 5 female graduates survived sexual asault during their studies. "The entire support and legal system at the academy appears to have failed," Senator Wayne Allard said. "We really do need to instill confidence in the system so victims know when they report rape they know the rape itself will not jeopardize their career." The following year, the Department of Defense opens the Sexual Assault Prevention and Response Office.
---
2005
Pfc LaVena Johnson's suspicious death ruled a "suicide" in Iraq – despite physical evidence of sexual assault and battery. The incident raises serious questions about the military justice system and investigative abilities.
Watch POD mini-documentary about Lavena Johnson.
---
2011
POD Founder Nancy Parrish, Rep. Jackie Speier, and Survivors Hold National Press Conference to Announce the Creation of Protect Our Defenders.
Introduction of The STOP Act— The first comprehensive proposal to end commander control of the military justice system.
Survivor Terri Odom leads advocacy campaign.
---
2012
The Invisible War Wins the Best Documentary Award at Sundance Film Festival, Bringing Additional Attention to Military Sexual Assault. Participants in the film, including Tailhook whistleblower Lt Paula Coughlin (ret), join POD's leadership team.
POD Brings Lackland Air Force Sexual Assault Scandal into National Spotlight; Successfully Advocates for First Congressional Hearing on Military Sexual Assault in Decades. More than 35 Air Force instructors are removed from their Texas posts after evidence surfaces of widespread sex crimes. Five are sentenced to prison.
POD Creates Pro Bono Legal Network (PBLN) for Survivors. Thousands of veteran, active duty, and civilian survivors have access to free legal support for the first time. The Network proves vital to POD's advocacy work.
US Air Force Rocked by Aviano Scandal; POD Brings Survivor, Kim Hanks, to US to Privately Meet with Members of Congress; Successfully Advocates for UCMJ reform. After a senior fighter pilot was convicted and sentenced for sexually assaulting Kim, his commander set him free. With POD's help, Kim comes forward publicly, and Congress terminates commanders' authority to overturn rape convictions and other serious offenses.
Senator Kirsten Gillibrand (D-NY) Introduces the Military Justice Improvement Act in Collaboration with POD Survivor Community. Sponsored by a broad bipartisan coalition, over 50 members strong, the proposed legislation would take prosecution decisions for rape and serious crimes outside the chain of command.
---
2013
POD Works with Senator Boxer (D-CA) to Reform the Military's Pre-Trial Hearing Process to Protect Survivors. Prior to this reform, military pre-trial hearings were used as a discovery tool by the defense often leading to abusive questioning of victims, who were not entitled to an attorney.
Once this reform became law, hearings were refocused on the question of probable cause, enhanced victim protections, and critically gave the victim the option of not testifying.
Survivor and POD Board Member BriGette McCoy Testifies Before Congress. By sharing her story of retaliation with the Senate Armed Services Committee, BriGette inspires lawmakers, building support for reforming the justice system.
POD Wins YouTube DoGooder's Award for Best Use of Video for Social Good.
As a Result of POD's Advocacy, Congress Eliminates "Good Military Character" as a Defense Against Rape. Guilt or innocence is now determined by the facts of the case, not the popularity of the accused.
Air Force Chief Prosecutor Col. Don Christensen Leaves Military, Joins Protect Our Defenders as President to Fix Broken Military Justice System.
Christensen is profiled in a New York Times Magazine cover story detailing his journey from Chief Air Force Prosecutor to reform advocate.
---
2014
From Survivor to Activist: GQ Magazine Profiles POD Board Member Heath Phillips. In his work as survivor outreach speaker at military bases, Heath represents thousands of male military veteran survivors.
---
2015
POD Partners with Human Rights Watch to Issue Key Report. Embattled: Retaliation Against Sexual Assault Survivors in the US Military details the chilling effect that retribution can cause survivors and offers recommendations for reform.
---
2016
POD Holds the Pentagon Accountable for Misleading Congress.
Our report, Debunked, along with an independent Associated Press investigation, exposes efforts by the Department of Defense to mislead Congress in order to block fundamental reform.
POD Founder Nancy Parrish Receives Ivan Allen, Jr. Prize for Social Courage. She donates the $100,000 award to Protect Our Defenders to help service members.
---
2017
POD Issues Landmark Racial Disparity In Military Justice Report.
Our groundbreaking investigation and subsequent report showed black service members were 50% more likely than white service members to face prosecution in every service branch.
The findings about racial disparities in the military justice system become a national news story, accelerating calls for military justice reform and leading to significant new congressional oversight.
---
2018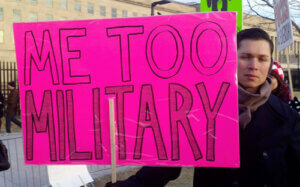 #MeTooMilitary Movement Takes Off. As public awareness grows, POD, Not In My Marine Corps, and SWAN partner to sponsor a protest in front of the Pentagon and online.
POD Launches One-of-a-Kind Law Center. POD transforms its existing Legal Services Program to become a strategic, high-profile law center providing enhanced pro bono support to survivors nationwide.
POD Successfully Advocates for Domestic Violence as a Specific UCMJ Offense. This legislation ensures that when a conviction is reported to civilian authorities, criminals will be properly identified, making it less likely that the offender will have access to firearms.
CBS Wins Emmy Award for Air Force Abuse Scandal Investigation With POD. Norah O'Donnell accepts the award after a six month investigation. CBS News producer Jennifer Janisch says, "This recognition would not have happened without Protect Our Defenders. So grateful."
General Accountability Office Issues Report Confirming POD's 2017 Racial Disparity Report Findings, Sparking Further Reform. Congress mandates that the military track race, ethnicity and gender of service members who are court-martialed. The Secretary of Defense is also required to identify causes of disparity and to "take steps to address [them]," as POD initially recommended in its 2017 report.
POD Pushes for Medical Malpractice Reform on Behalf of Survivors. Due to a 1950 Supreme Court ruling ("Feres"), military members previously could not make claims against the government for injuries "incident to service" (including those arising from medical malpractice and rape). POD and partners successfully pushed for new legislation, which now allows survivors to claim damages caused by medical malpractice. This is a major first step towards repealing the Feres doctrine and eventually allowing survivors to recover damages.
---
2019
POD Successfully Advocates for Expansion of Special Victims Counsel Program to Include Domestic Violence Victims. After POD met with members of Congress pressing for this reform, Congress specifically expanded SVC services for this group of victims.
---
2020
SPC Vanessa Guillén Murdered at Fort Hood After Alleging Sexual Harassment; POD Advocates for Reform in Spanish-Language Press.
After a survivor-led national protest movement forms around the hashtag #IAmVanessaGuillen, a military investigation finds Fort Hood leadership allowed a "permissive environment for sexual assault and sexual harassment," and more than a dozen Ft Hood officials are fired.
With POD's Help, Air Force Veteran Harmony Allen Wins at the US Supreme Court. POD helps Harmony file the first ever amicus brief from a rape victim before the Supreme Court. The unanimous decision sends Harmony's convicted rapist back behind bars, after wrongly being freed by an earlier military court ruling.
POD Issues Second Racial Disparity Report. Just two days after the murder of George Floyd, POD releases its second report on racial disparities. Using documents uncovered through a federal lawsuit, the report exposes that the Air Force repeatedly concealed, embellished, and discredited its own efforts and statistics while failing to address persistent racial disparities, especially in the case of Black and Hispanic service members. Congress holds hearings and Black service members and military leaders use findings to press for culture change. Colonel Christensen also serves as a key witness.
POD Secures Support for Military Justice Reform From Joe Biden & 19 Other Presidential Candidates; Leads to Substantive Reform. POD founder Nancy Parrish asked then-candidate Joe Biden: "As President will you stand with military sexual assault survivors and support moving the military justice system into the 21st century by empowering experienced military prosecutors to make prosecution decisions for non-military crimes — serious felonies like rape, murder and child abuse?" Biden responded: "The answer is yes, yes, yes."
Due to POD's survivor-led effort, this marks the first time the topic broke through into a presidential campaign issue. President Biden's support leads to the Pentagon backing the most meaningful reforms to the military justice system in US history.
---
2021
Congress Passes and President Biden Signs Transformative Military Justice Reforms.
As a result of POD's decade of advocacy, the voices of hundreds of survivors, and unwavering commitment of Senator Gillibrand and Representative Speier, the most significant military justice reform in US history becomes law. For the first time, independent prosecutors, not commanders will determine whether an offender is prosecuted for 11 serious classes of offenses including rape.
---
2022
President Biden signs executive order making sexual harassment an offense in the Uniform Code of Military Justice (UCMJ).
---
2023
Univision's #IAmVanessaGuillen – a groundbreaking documentary about the resilience of survivors of military sexual violence and their fight to change the broken military justice system – wins the 2023 Webby Awards' "Documentary: Longform" category as well as a "People's Voice" selection.
Made in collaboration with Protect Our Defenders, #IAmVanessaGuillen chronicles survivor Karina Lopez's journey going public with her sexual assault and launching the viral #IamVanessaGuillen hashtag in the wake of Guillen's tragic death at Fort Hood in 2020. Ultimately, Karina inspired hundreds of servicemembers to share their stories, creating a movement that helped spur the most transformative military justice reform in our nation's history.
---
President Biden signs a new executive order implementing the most transformative military justice reform in our nation's history – which will empower independent military prosecutors to determine whether those accused of sexual assault, rape, murder, domestic violence and other serious offenses will be prosecuted. The executive order shifts key decision-making authorities from commanders and builds on historic reforms instituted as part of the 2022 National Defense Authorization Act (NDAA) establishing a new Special Trial Counsel that will have prosecutorial authority over 11 offenses as well as have exclusive authority over entering plea agreements and adding or dismissing charges. The executive order also includes the adoption of a host of other Independent Review Commission on Sexual Assault in the Military (IRC) recommendations, such as professionalizing and strengthening prevention and response workforces, and improving the Department's responses to reports of domestic violence and sexual harassment.