Board of Directors Officers
Founder and Chair – Nancy Parrish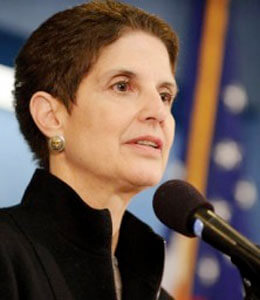 Nancy Parrish is an active leader in community and public affairs. She has devoted much of her life to issues of social justice and human rights.
In 2011, Parrish founded Protect Our Defenders (POD) is the national organization dedicated to ending the epidemic of sexual assault and racial disparity in the military, and its wide-ranging effects on our communities. In 2014, the New York Times, Robert Draper described POD as "the nation's pre-eminent advocacy group on behalf of victims of sexual assault in the military." In recognition of her work with Protect Our Defenders, Parrish was named the 2016 recipient of the Ivan Allen Jr. Prize for Social Courage.
Parrish was also a founding co-chair of Human Rights Watch's Northern California Chapter, an organization dedicated to protecting human rights around the world. She has worked with President and Mrs. Carter in support of their international humanitarian work at the Carter Center, which is guided by a fundamental commitment to the alleviation of human suffering. Parrish served two terms as the development trustee of UCSF's Friends of the Department of Psychiatry's Hospital Board, which led to the creation of a children's center. She also served as Chair of the Ringling Museum, and as Vice President of the Children's Guardian Fund Board of Sarasota, helping to provide basic needs and enrich the lives of foster children.
CEO and President – Jennifer Elmore

Jennifer is a senior vice president and managing director for Abbot Downing, a boutique wealth management firm. Jennifer has been in the financial services industry and with Wells Fargo for more than 20 years. Jennifer is a fierce advocate for victims of abuse. She is passionate about creating a cultural sea-change ending protectionism of perpetrators and the re-victimization of survivors.
Jennifer received her bachelor's degree from Campbell University in 1993. Prior to attending college in North Carolina, she lived with her military family in many domestic and foreign locations. Jennifer and her husband, Mike, have five children and make their home in Chapel Hill, North Carolina.
Senior Vice President – Josh Connolly


Josh served on Capitol Hill for nearly 16 years including as Congresswoman Jackie Speier's longtime Chief of Staff. Congresswoman Speier was a leading voice and force in the movement to reform how the military handles sexual assault and harassment in its ranks. Josh aided the Congresswoman in her role as Chairwoman of the Military Personnel Subcommittee on the House Armed Services Committee. He helped formulate hearings to hold the military accountable and drafted dozens of amendments and bills to tackle this problem. Many of these legislative efforts became law, including taking cases out of the chain of command, reforming the preliminary hearing process to protect victims, and restricting a convening authority's ability to overturn a guilty verdict. Josh now works in the private sector for LinkedIn and sits on several boards in the green energy space. With significant work still be done to fix the military's response to sexual assault, Josh has joined Protect Our Defenders to lend his expertise in this space.
Board Co-Chair – Davis Weinstock
Davis Weinstock is the former Chair of Clark & Weinstock, an organization that counsels leaders of large, complex organizations on strategies relating to reputational challenges and opportunities. Davis has counseled the Federal Trade Commission, Harvard Graduate School of Business, the New York Stock Exchange and the Securities and Exchange Commission. Davis has provided strategies and/or counsel relating to many of the largest and best-known companies, transactions and events over the past twenty years.
As a writer and producer, Davis' work has included a large number of films, series, and pilots for three national networks and the BBC, three plays presented in New York, the feature film Tomorrow and articles in numerous national publications.
In volunteer activities, he has been president of the Board of Trustees of Hopkins School in New Haven, Connecticut and has headed the boards of the Nation Institute and CORO. He is a director of the W.E.B. Dubois Institute at Harvard University, New Visions for Public Schools, Apollo Inner-City Corporation and Impact Repertory Theater.
Secretary and General Counsel – Russell H. Miller
Russell Miller, a California attorney for thirty years, is Managing Partner of Miller & Olson, LLP, with offices in Burlingame and Sacramento.
He specializes in nonprofit law, including the formation and operation of charitable organizations.
Miller also specializes in Federal and state political, campaign, lobby, and election laws, representing clients located throughout California, in other states, and in Washington, D.C.
Treasurer – Paula Coughlin
Paula Coughlin is a former U.S. Navy Lieutenant and the founder and owner of Ocean Yoga Center in Atlantic Beach, FL. Paula Coughlin-Puopolo comes from a lineage of military and community leaders. Before settling in Florida, she served in the US Navy as a helicopter pilot, serving aboard Naval vessels as one of the earliest women in aviation to become flight deck qualified and maintenance officer/post-maintenance check qualified. While serving as Aide de camp at the Naval Air Test Center, in 1991, her role as a whistle-blower in the infamous Tailhook Convention ended her aviation career, and Coughlin pushed forward working to rectify inequities in the military's policies for the role of women in aviation and in combat. Coughlin is unwavering in her efforts to make positive changes; she has testified before SASC sub-committee, met with former President GH Bush, Sec. of Defense and more recently through an online petition and appearance on the Hill, forced the House Armed Services Committee to hold open hearings on the sexual abuse scandal at Lackland AFB.  In recognition of her leadership in modernizing the roles of women in the military, in 1992, she was honored as "Woman of the Year" by Vanity Fair. Coughlin was featured in a feature-length feature film, "She Stood Alone," as well as the academy award-nominated documentary "Invisible War" and most recently in the historical series "Retro Report" with the New York Times.
---
Ronald T. Gault
Ronald T. Gault served as head of JP Morgan's South African office in Johannesburg after the demise of the apartheid regime. Prior to the South African post, he was an investment banker at JP Morgan and before that at First Boston.
Prior to his banking career, Gault was a department head and senior advisor in New York Mayor Ed Koch's Administration. Prior to the Koch Administration, Gault served as a Ford Foundation program officer from 1969 to 1978. Before the Ford Foundation, in the late 1960s, Mr. Gault directed field operations for the U.S. Justice Department's newly established Community Relations Service, which acted as peace-maker during conflicts and tensions arising primarily between police and black communities.
Before the Justice Department, Mr. Gault served at USAID for two and a half years. Mr. Gault began his professional career in 1964 at the Urban League, working on the nationwide Voter Education/Voting Campaign. After retiring from his banking career, Mr. Gault has returned to the U.S. from South Africa and now concentrates his professional attention on philanthropic activities, mentoring of young men, and leading Passages, the wine business he started in South Africa.
Mr. Gault earned his bachelor's degree at Grinnell College, a master's degree in Public Policy and Management from the University of Michigan, and a law degree from the George Washington University School of Law.
Coretta Gray
Ms. Coretta Johnson Gray is a 42-year-old attorney, entrepreneur and United States Air Force veteran from Baton Rouge, Louisiana. At age 19, she graduated with honors from Tuskegee University in Alabama with a degree in Sociology. She went on to graduate from Vanderbilt University Law School in 2001, where she was a part of the first Black team to win the University Moot Court Competition. Ms. Gray entered active duty as an Air Force Judge Advocate, and served as a prosecutor, defense attorney, appellate attorney and as a legal advisor to Commanders and Airmen. After leaving active duty, she became a veteran's advocate and launched her boutique event planning company Coretta's Elegant Events.
Coretta serves her community as a citizen member of the city police advisory panel, and as an active member of her church.
Kyleanne M. Hunter
Kyleanne Hunter is a senior political scientist at the RAND Corporation. She came to RAND from the USAF Academy where she was director of the Strategy and Warfare Center, associate director of the Institute for Future Conflict, and a professor of military and strategic studies. She was the Co-Chair of the Culture and Climate Line of Effort for the Independent Review Commission on Military Sexual Assault, and Chair of the Employment and Integration Subcommittee for the Defense Advisory Committee on Women in the Services.
She is a Marine Corps combat veteran with several deployments to Iraq and Afghanistan as an AH-1W Super Cobra attack pilot and worked in the Office of Legislative Affairs. Her research interests include military gender integration, suicide prevention, sexual assault and harassment prevention, gun violence prevention, and the impact of emerging technologies on military personnel policies.
She holds a Ph.D. in political science & international relations from the University of Denver.
Rev. Brock Leach
Rev. Brock Leach is a Unitarian Universalist minister working to advance social justice and social entrepreneurship. He is executive consultant for innovative ministries at the Unitarian Universalist Association and vice-chair of the board of the Unitarian Universalist Service Committee (UUSC), the denomination's international human rights agency. Prior to that, Brock was on staff for UUSC where he helped create and launch the UU College of Social Justice and a denomination-wide campaign for climate justice.
Brock's board service has included the Y of the USA, the PepsiCo Foundation, Habitat for Humanity Sarasota, Children First, Dr. Dean Ornish's Preventive Medicine Research Institute and Mavuno Congo. He is an executive mentor for the Global Good Fund's Fellowship program for social entrepreneurs.
Prior to ministry, Brock had a 24-year career as an executive for PepsiCo where he was President and CEO of its Frito-Lay North America and Tropicana divisions and served as the corporation's Chief Innovation Officer. He received his BA in economics from the University of Colorado Boulder, his MBA in finance and marketing from the University of Chicago, and his Master of Divinity degree from Meadville Lombard Theological School in Chicago.
BriGette McCoy
BriGette McCoy is a 2020 Congressional Medal of Honor Foundation Community Service awardee, and Army Gulf War Era Veteran. She is a survivor of sexual assault in the military, has testified before Congress on her struggle to receive justice, overcoming sexual assault and its collateral damage.
Brigette is the Founder and CEO of Women Veteran Social Justice Network, advocating equality and justice for veteran women and sexual assault survivors. Her activism and leadership, have earned her national media appearances.  She was an advisor to the award-winning documentary, Service: When Women Come Marching Home. 
BriGette's work spans fields of educational technology, nonprofit, business, government, and politics. Her voluntary activities include working with the National Association of Black Military Women as Scholarship Chair, Federally Employed Women National Partner, and serving on the City of Atlanta and Dekalb County's Veteran Affairs Commissions. She is also a Legacy member of Sigma Gamma Rho Inc, Eta Sigma Atlanta Chapter. She earned a Bachelor of Science in Psychology in 1999 from the University of North Carolina Charlotte, completed master's courses in counseling, religious studies, and education, with an emphasis on media design technology. She will complete her Masters in Instructional Design Technologies at Georgia State University in. 
Darchelle D. Mitchell
Darchelle Mitchell was born September 11, 1973 in Memphis, Tennessee. She graduated from Warner Robins High School in Warner Robins, GA and is a 2000 Alumni of Fort Valley State University with a Bachelors Degree in Psychology.
Her father served 22 years active duty Army. She joined the Navy when she was 30. Darchelle wanted to show her sons the example her father set for her.
Throughout her career, she faced rape, sexual harassment and racial discrimination. In spite of a stellar record and receiving numerous awards in 2011 she was denied reenlistment after reporting rape. Darchelle refused to be beaten. She went to school and fought to successfully reenlist in 2013. Though she continued to face discrimination, and retaliation for reporting the crimes years before, she persevered and is proud of her 14 years of service to our country. Learn more about Darchelle's story here.
Terri Odom
Terri Odom is a US Army and Navy veteran and survivor of military sexual assault, serves on Protect Our Defender's Peer to Peer Support Network, Advocacy Committee, and formerly on POD's Advisory Board. Currently Terri is a full-time volunteer veteran adviser with the VA St. Louis Health Care System. She conducts veteran outreach, trains VA staff to serve veterans more holistically, and speaks to troops before and after deployments. Terri currently serves as a Missouri women veteran's liaison to Governor Jay Nixon. In 2013 Terri was selected as one of 12 women to receive the St. Louis Hellenic Spirit Foundation Award for her accomplishments and enthusiasm for community spirit. She is an active volunteer with The St. Vincent Veteran Homeless Program, the Missouri Director of Veterans Homes, The Fisher House and the Happy House, which all provide housing to veterans and their families. Terri is a peer support leader for veteran crisis-modes through The Red Cross. From 2009-2011 she served on Congressman Russ Carnahan's Veteran's Advisory Committee.
Heath Phillips
Heath Phillips served in the United States Navy from 1988-1989. He became a victim of sexual assault while onboard the USS BUTTE AE27 in 1988 upon first reporting to duty. He reported the crimes. His leadership failed to take action. He continued to be abused. In fear for his life, he went AWOL. He was forced out in 1989 with an "Other Than Honorable" discharge. He suffered and felt shame. After 25 years, the VA finally diagnosed him with PTSD due to Military Sexual Trauma. He began to get the care he needed. The Navy still refused to change his discharge. After years and multiple attempts he was about to give up. But he didn't and with the help of POD and partner, Veteran Advocacy Project, Heath's discharge was finally upgraded to "honorable!"
Phillips has been a volunteer advocate with Protect Our Defenders since its founding in 2011. Through his advocacy and media appearances, the U.S. Army contracted with him to participate in Sexual Assault Prevention programs in the US and around the world. Heath works to make sure that other survivors know it is okay to come forward, get help and speak out if they choose. As he often says, "I will continue to advocate and fight for changes to create an impartial justice system and end victim retaliation."
Lilli J. Rey
Lilli J. Rey is a community activist with years of volunteer experience that have focused on protecting and restoring the rights of women.
A political fundraiser as well, Lilli joined the board of Protect Our Defenders to help bring awareness to this issue with the goal of seeing change for the victims once and for all.
Lilli lives in California with her four children.